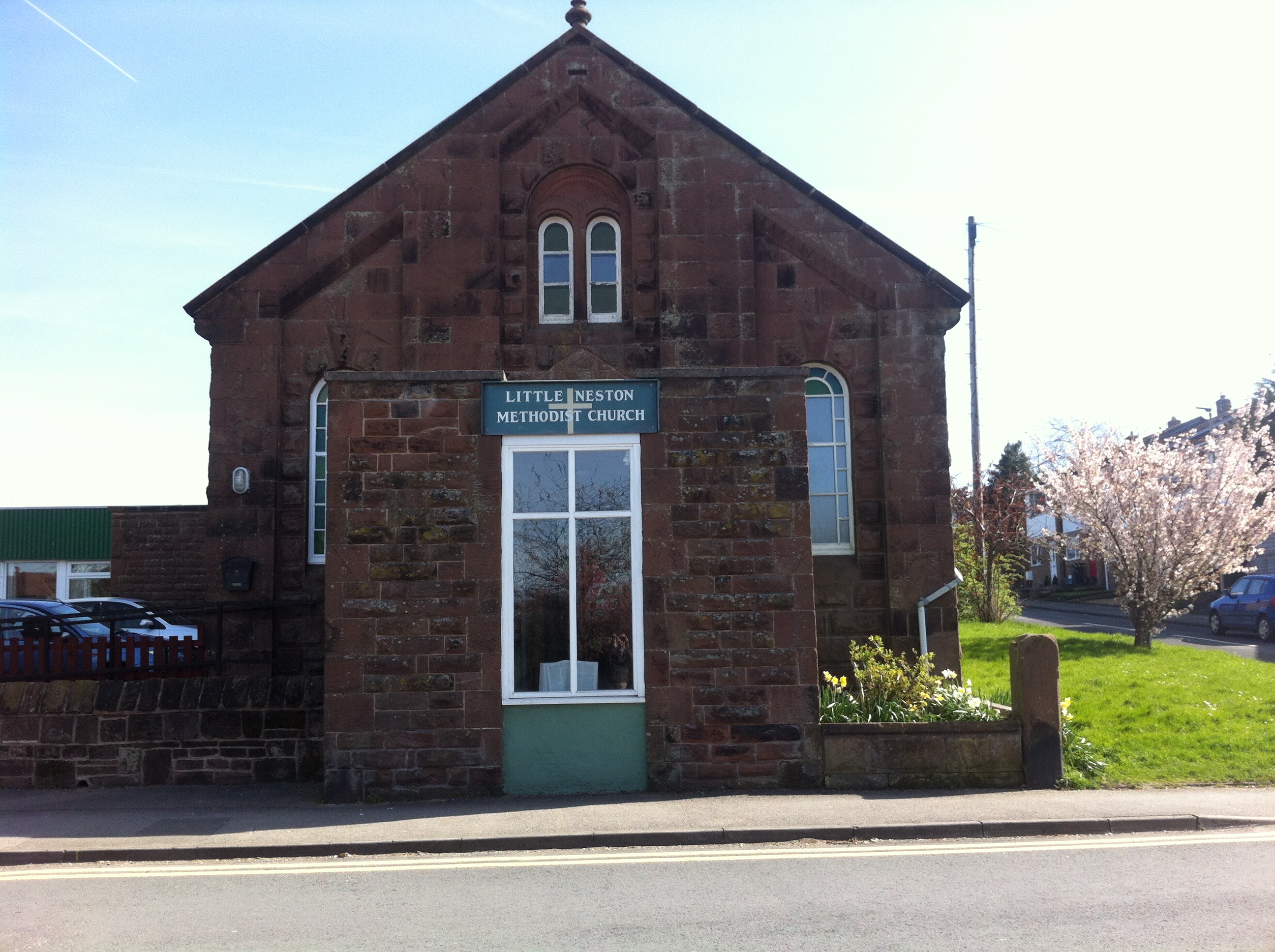 LITTLE NESTON METHODIST CHURCH
Celebrating 145 years in the Community
Meet with us on Facebook,we have a summary of the week's
sermon,comments and more.
www.facebook.com/#!/LittleNestonMethodistChurch
site created 1997 Last update October 2018

WHY ARE WE HERE
We are here as the Family of the Little Neston Methodist Church to worship Jesus as Lord, to encourage each other in our fellowship, and to serve others in His name.
1. To spread the Good News of Jesus Christ in the neighbourhood.
2. To foster a deeper awareness of Him through worship and the nurture of faith within the church's fellowship.
3. To support activities that serve the wider community.
1. Encouraging a deeper level of spirituality and commitment.
2. Nurturing faith among children and young people.
3. Increasing our level of outreach within the local community and the world.
4. Increasing our contacts with the various groups that comprise our church community.
5. To address the imbalance in ages, across the spectrum of membership.
There is a lot going on in the Chapel and not just on Sundays. Here is a run down on some of the meetings and services. SUNDAYS Services at 10.30 a.m. and 6.30 p.m. once a month in conjunction with other churches in the group (the group comprises Little Neston, Neston, Willaston and Heswall Methodist churches). Holy Communion is held in the church once a month in the morning.
There is a Prayer Meeting every Tuesday morning at 10.00 a.m.which is well attended as is the fortnightly Thursday Bible Study/Discussion group which is held in the church hall at 7.30 p.m. The church has run ALPHA courses which are videos and discussions on Christian Discipleship. There is a new Knit and Natter group which meets in the church hall, on Tuesday afternoons between 1.45 and 4.00 p.m. as the name implies, to knit and to teach people the intricacies of knitting if they don't know, to talk and to knit for charity. In order to encourage a younger congregation we have just started a Lego church on Thursdays at 3.15 p.m. to coincide with local school leaving times. The first session was very encouraging, some 25 children attended along with mums, dads, carers and grandparents, the children were excited to see all the Lego laid out for them. After the Lego building session in the church hall the children and adults went into the service for Bible stories illustrated with the characters made out of Lego and portrayed on the overhead projector.There was tea or coffee provided for the adults and juices for the children.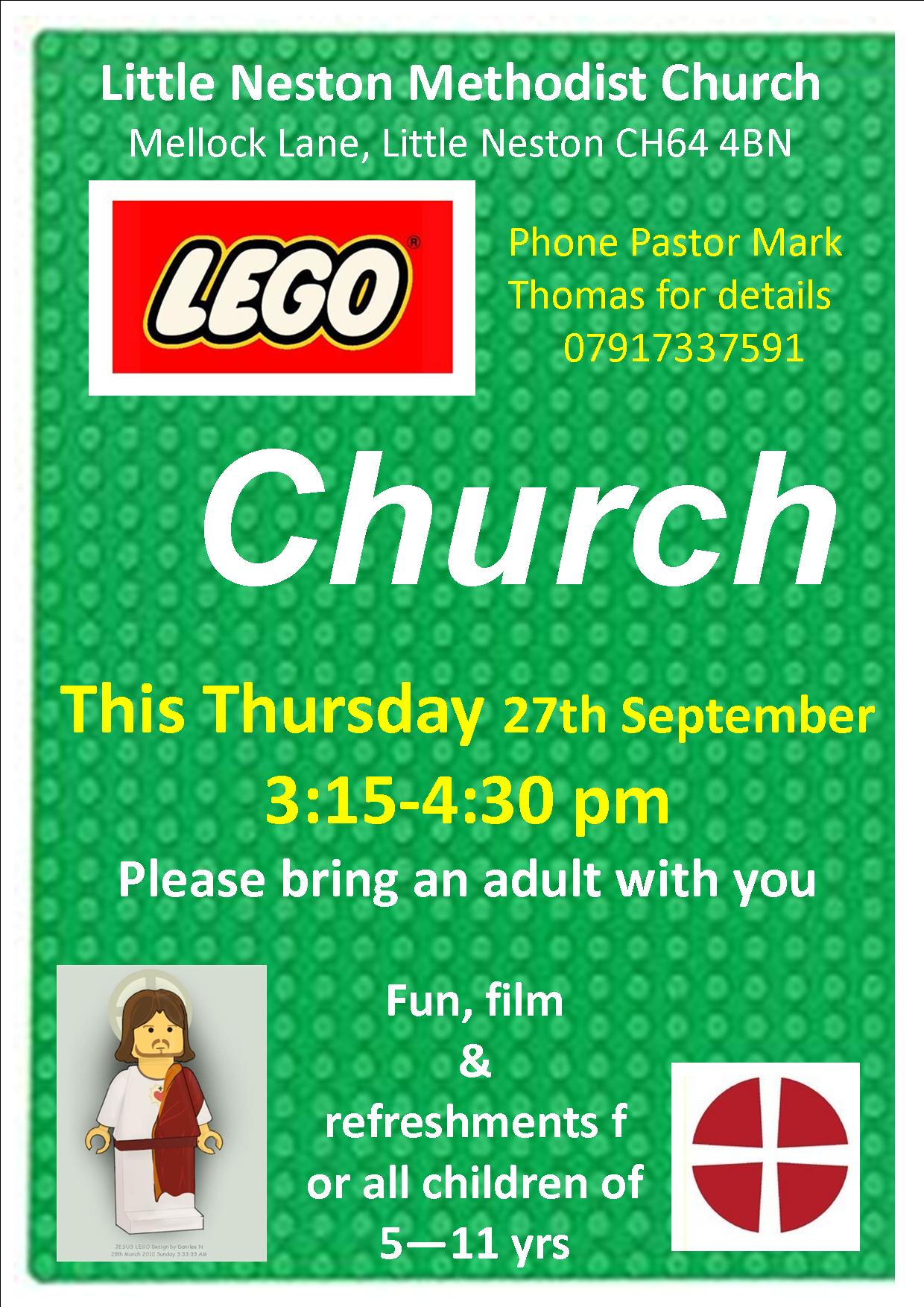 The church is conscious of the fact that it is part of the community and the church hall is also available for bookings for parties, and community groups etc., a U3A Table Tennis session is held in the church hall, also as a community service a luncheon club for the elderly is in operation. The church has been blessed over the last few years that we don't have to run to stand still like so many churches, being able to dedicate fund raising to outside projects, for this we give due thanks and praise to our Lord and Saviour. Mission is close to our hearts and the World Mission Services are well supported. We have a weekly newsheet to keep all the events and meetings at the forefront of everyones minds and a 20 or 30 page Newsletter at Christmas and Easter which is well furnished with contributions from members and friends. A copy of the monthly noticesheet is available to view in pdf format, please click noticesheet and follow link.
Encouragingly recently there are more outside activities using the Church premises, which gives us a better sense of community.For instance some of our members are taking advantage of a slimming world group which meets on Monday evenings run by Jayne Williams contact 07929864972.
The Church history was first published for the Centenary of the Church and our historian and church member Edward Hilditch updated it for the 125th Anniversary. The Church was built in 1872 as a Primitive Methodist Chapel. Records show that the church buildings and furnishings cost £645, considered a large sum in those days when the average farm worker's wage was just £39 per annum. New Sunday School extensions were completed in 1961 to cope with the influx of children as the area became a mixture of farming community and burgeoning dormitory town with the advent of commuting from the connurbations of Liverpool, Birkenhead and Chester. The Sunday School was further extended in 1971 as numbers rose still further.
John Wesley was a frequent visitor to Neston and sailed from Parkgate which was an embarkation port on the River Dee for crossings to Ireland. Little Neston Church later acquired the Communion Cup and Plate used by John Wesley when he preached in the Wesleyan Chapel on the road to Parkgate. The other Methodist church in Neston, Neston Methodist Church is situated near the Town centre closeby. The 125th Church Anniversary was celebrated in 1997.
Current membership stands at about 70 with younger people,marrieds, middle aged and senior citizens all represented.
Minister - Reverend Ann Rigby-Jones who is also Circuit Superintendant. Ably assisted by Pastor Mark Thomas who is pictured right.
Location: Click here for an interactive Google Map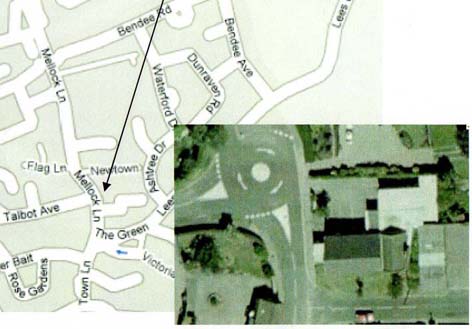 Hire of hall with kitchen - Ed 0151 336 4510
Weddings, baptisms and Funeral Services contact the minister direct. e.mail - thetorchison@yahoo.com
General enquiries e.mail - peter@wright1.eclipse.co.uk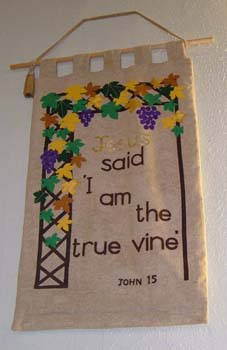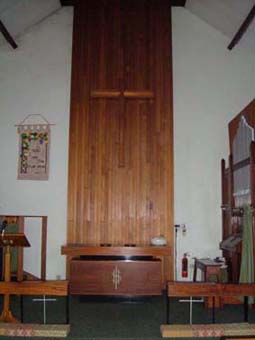 Banner made by Church member and Church interior
Coffee after church and Traidcraft stall
Christian Aid Sponsored Walk 2018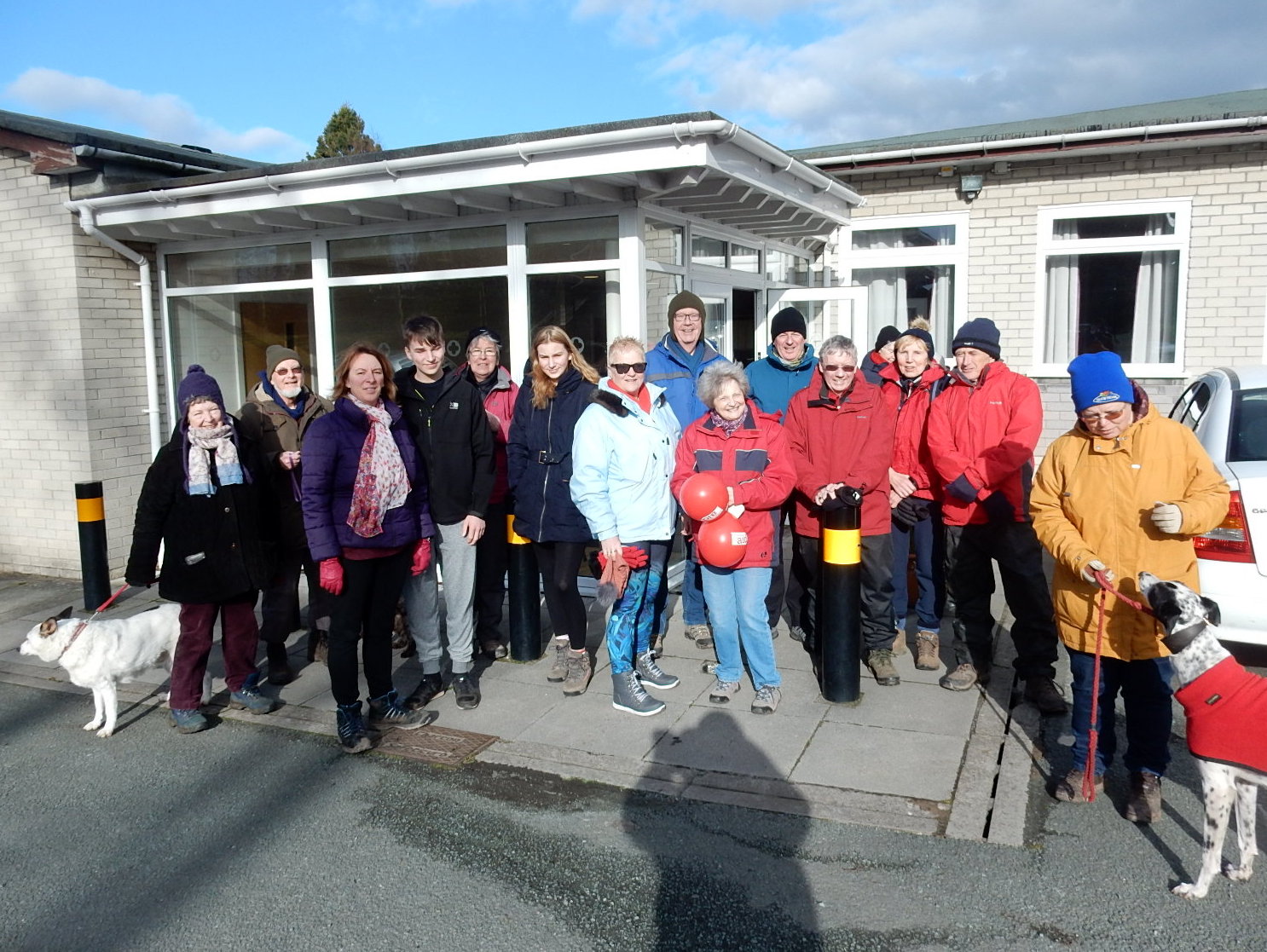 We held a Lent Lunch on the 7th March 2018. This was our contribution to the series of Lent Lunches held by the Neston & District Churches Together
which comprises the two Methodist churches Little Neston & Neston; the United Reformed Church; the Roman Catholic church; the Parish churches and
Neston Christian Fellowship. We have good fellowship with all the Neston churches.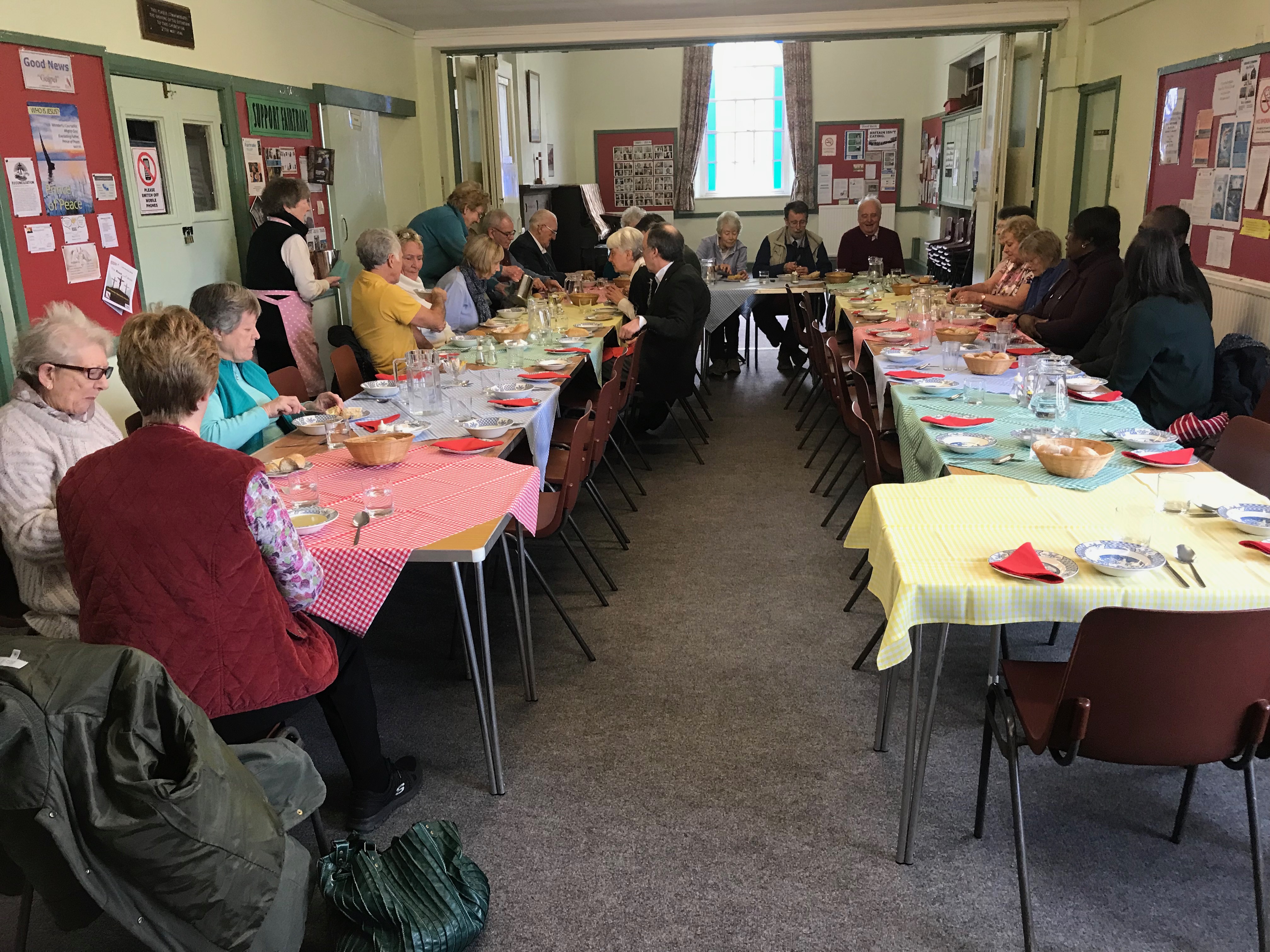 Mince Pie Coffee Morning and Christmas Tree Festival Christmas 2017
Christmas Mince Pie and Coffee Morning
We held our Christmas Mince Pie and Coffee Morning on Saturday 25th November at Little Neston Methodist Church. The day started as one of the worst days of the late autumn so far with hail, sleet and rain. Fortunately it started to clear up and people turned up to make a very good attendance. The stalls were busy throughout the morning, cakes, (always popular), previously owned toys which were in very good condition, (those not sold were added to the toys donated at the toy service to go to Charles Thompson Mission), gift stall, handicraft stall, traidcraft stall and raffle. Proceeds this year were donated to the relief effort for the Rohingya people from Myanmar who sought refuge in neighbouring Bangladesh itself a very poor country, whose people were very generous in their aid.
The amount raised came to nearly £500, so the church rounded it up to that figure, many thanks to all who helped with refreshments, ran stalls and everyone who came on the day. Below some of the trees at the Christmas Tree Festival in the church, decorated by Knit & Natter group; Neston Riverside W.I.; Woodfall Primary School; 1st Ness Guides & Brownies; and members of the congregation.
Open The Book: Along with other churches in Neston & District Churches Together, we have permission to visit various schools in Neston and Willaston to enact Bible stories for the children. These are very well received by children and teachers. We started in January with "The Wise Men's Visit" followed by "The Storm on the Lake" in February. We have recently done "The Great Parade" focussing on Palm Sunday and are delivering the Easter message through "John's story". Christmas 2017 we welcomed some of the schools to view our Christmas Decorations and Christmas Tree Festival in the church. See above.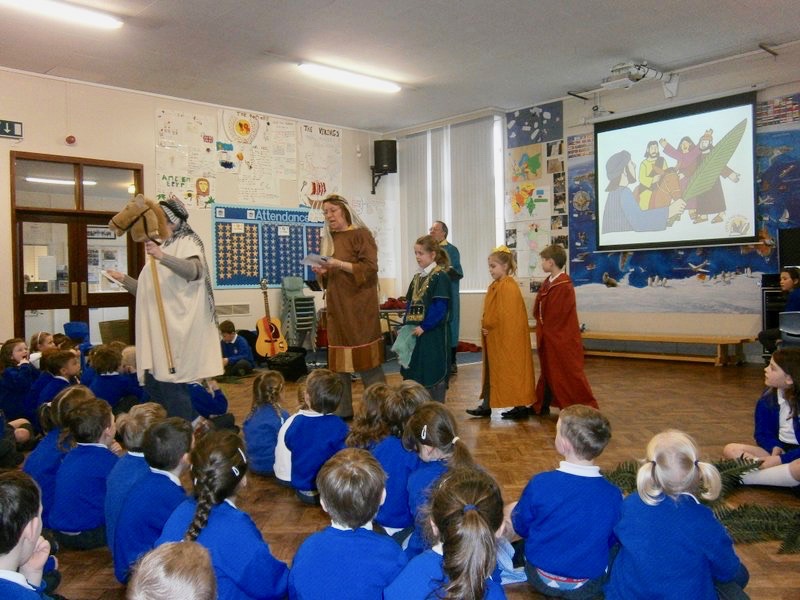 Saturday 24th June saw a Strawberry Tea held at the church to raise funds. There was a steady flow of visitors enjoying their strawberries and cream and strawberry scones, in between perusing the stalls
for cakes and preserves; crafts and Fairtrade goods.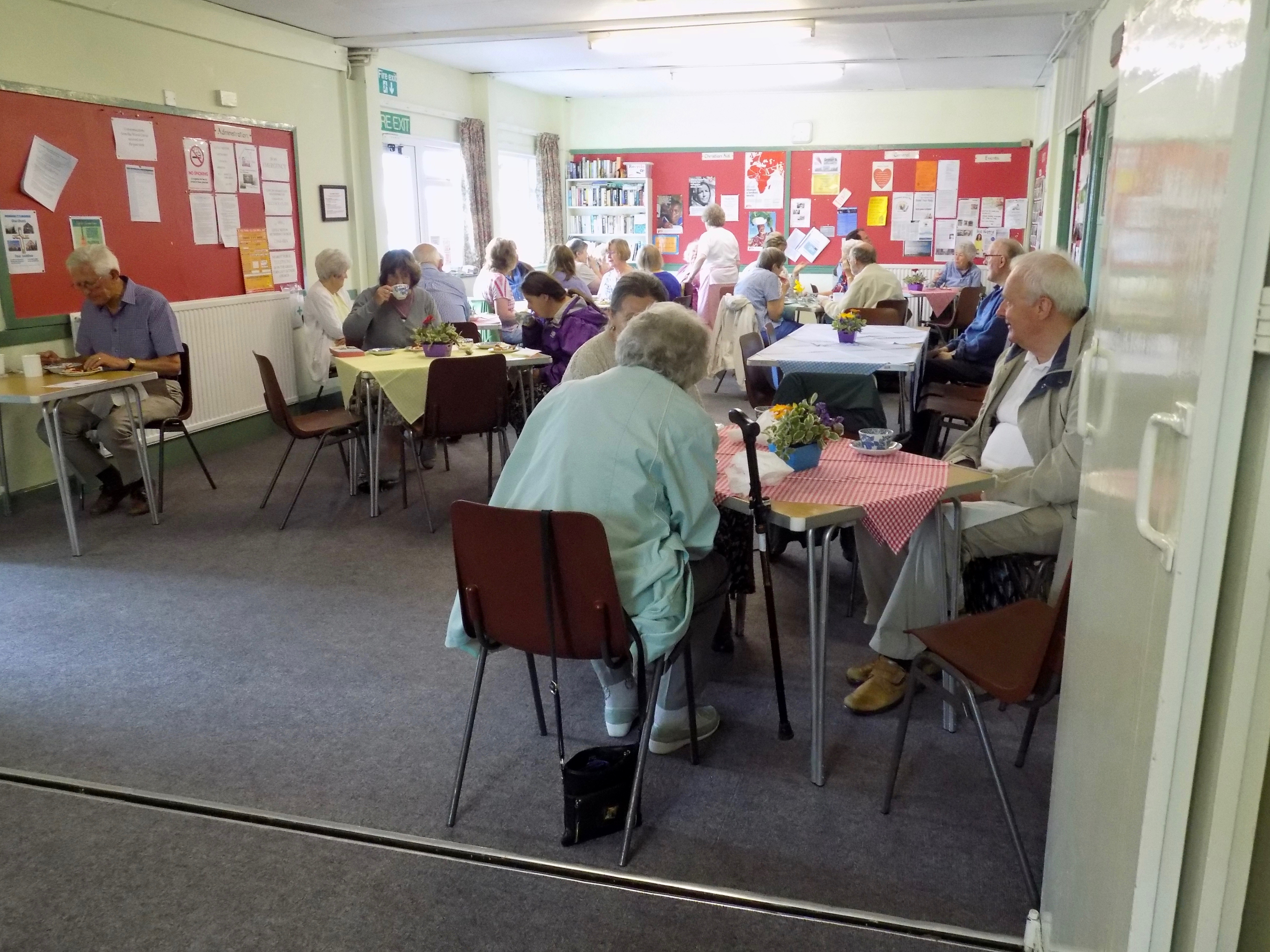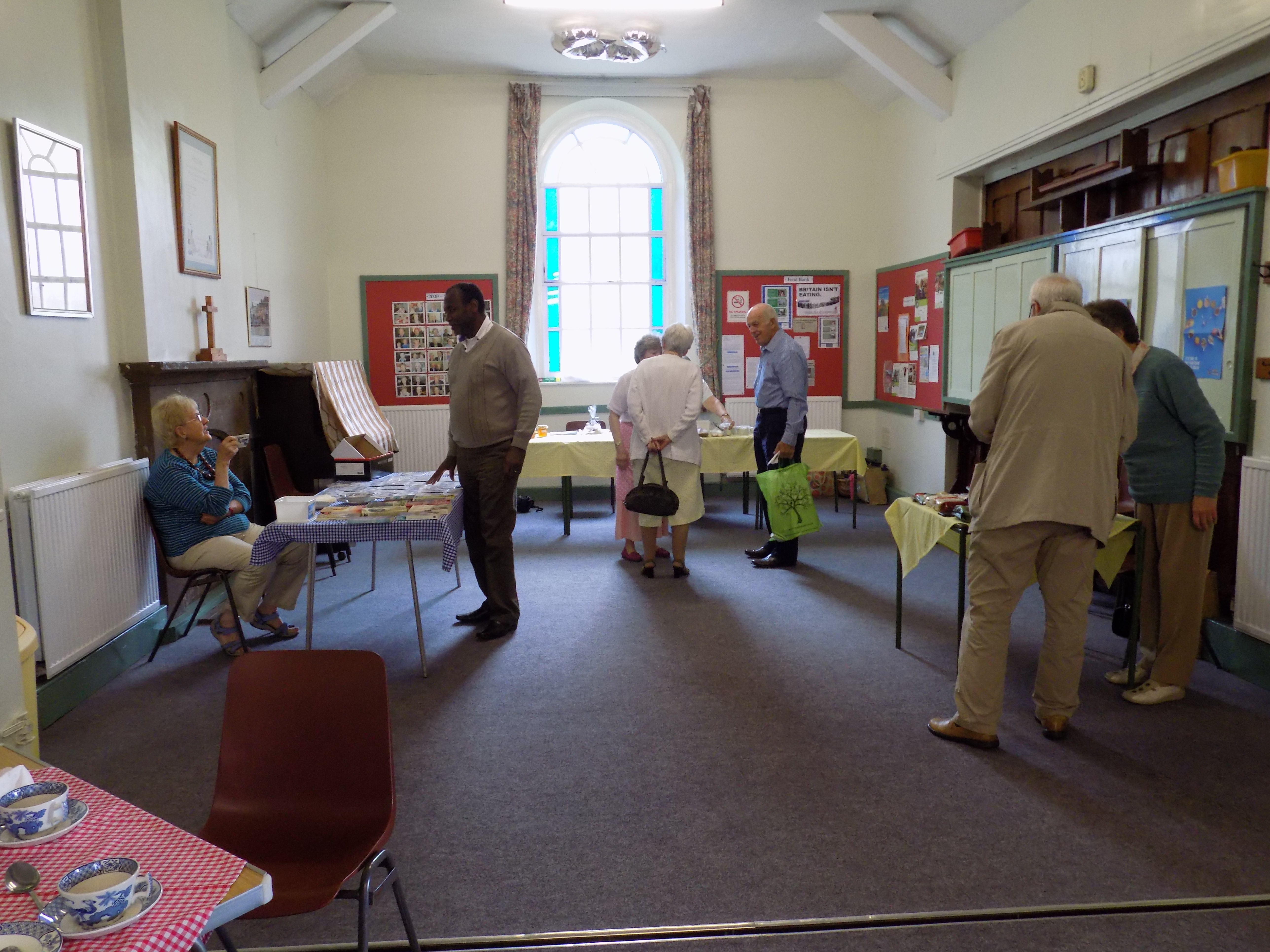 On Saturday 24th March 2018 we held a hot cross bun and coffee morning. This was time for a chat over coffee and buns and was very well attended as the picture shows.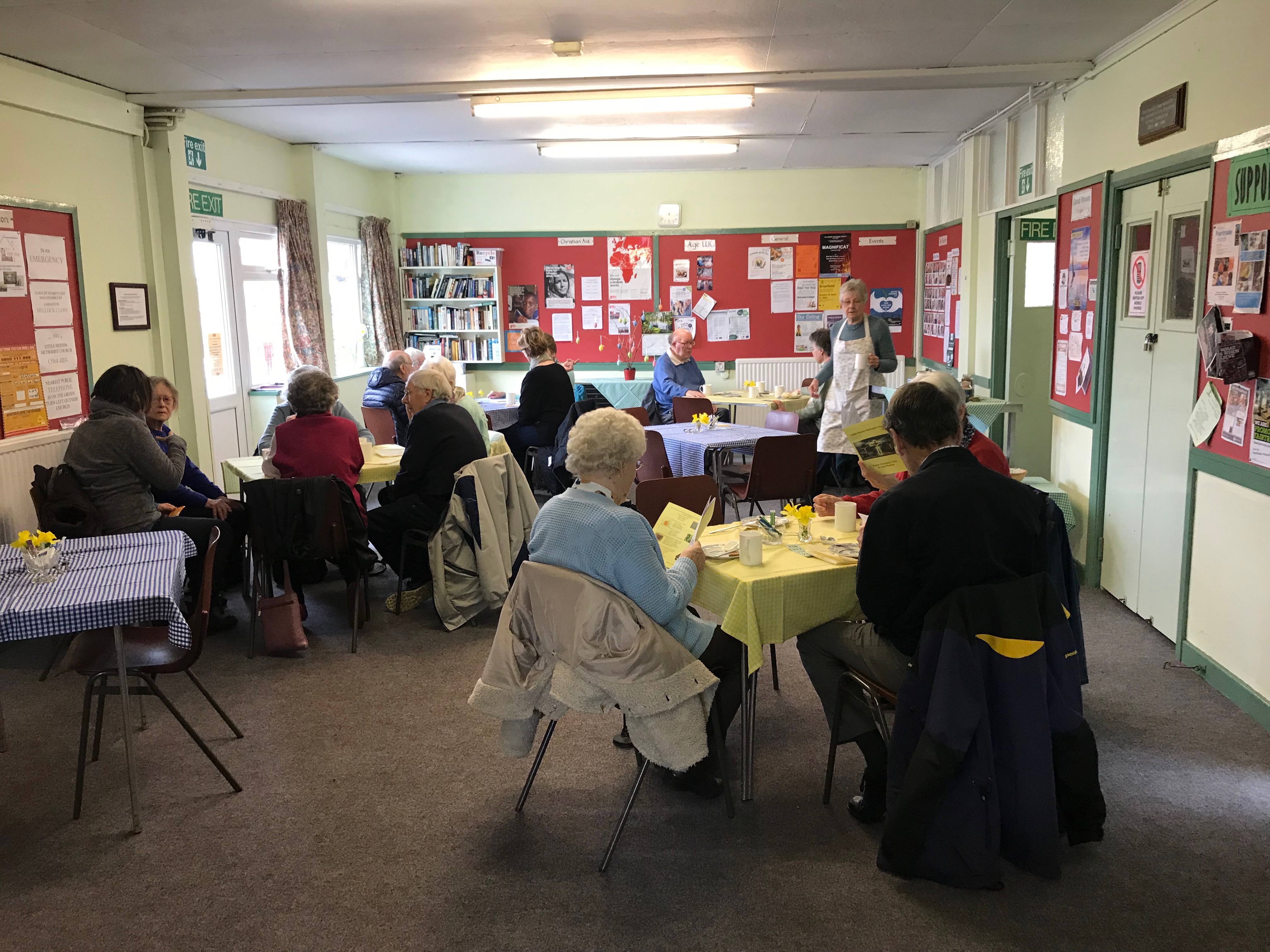 Our Minister Reverend Marcus Torchon who had been with us for 12 years has taken up a Superintendant Ministry in the Coventry Circuit. His last service with us was on the 29th July, friends from Neston and Willaston Methodist Churches joined us for a farewell afternoon tea, where thanks were given for his service and dedication over the years. Presentations were made from each church, unfortunately his wife Sylvia and son Jean-de-luc were not able to join us for the occasion. The Wirral Circuit Superintendant Reverend Ann Rigby-Jones is taking ministerial charge but will be assisted by a part time Pastor, Mark Thomas see Minister above. Pictures from the Farewell Tea below.
Noticesheet Noticesheet page2 Easter Newsletter 12 page booklet. You will need Adobe Acrobat Reader to access this "If the first page doesn't appear run cursor down to bottom of page and a floating menu should appear, click on second icon from the right to open Acrobat reader"